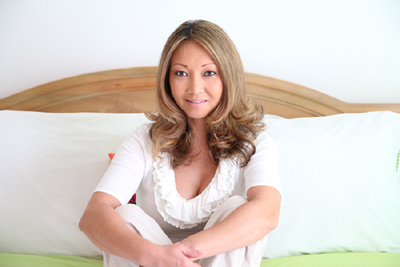 Grace De La Rosa has been working as a commercial and corporate actor, voice-over talent and print model since 1986. She took a break from 2002 to 2009 to raise a family and recover from Stage 3 (III) colon cancer and chemotherapy. Today, she is blessed with good health and is back at work as an actor, spokesperson , and public speaker as a colon cancer advocate and survivor.
Grace created Be a Blue Buddy, a colon cancer awareness campaign, in 2014. Be a Blue Buddy is not an organization, but rather a personal call to action through public speaking, reaching out to city and state officials, and using social media to help raise awareness of colon cancer, the importance of screening and early detection in support of survivors; to give hope to newly diagnosed patients, and to honor those who have died from this disease. Most importantly, she shares her story to empower others and hopefully save lives. Keep up with her latest efforts here and on Facebook.
Grace grew up in Atlantic Beach, FL--the eldest of four in a close-knit family. Her parents are still happily married. She lived abroad in Spain and Japan while her father served in the Navy. Grace has two children, and after living in South Carolina, Hawaii and Maryland, is currently living back "home" in Jacksonville, FL.
Grace attended the University of North Florida (UNF), interned as a TV reporter at WJXT-TV4 and received her Bachelor of Arts degree in Communications and TV Broadcasting. She has also worked in public radio. Her childhood dream was to work as an entertainment and travel correspondent. Instead, life led her to acting and advocating as a colon cancer survivor.
She has been active in the fitness industry as a fitness writer, AFAA-certified fitness instructor, fitness/swimwear model and NPC fitness competitor.
Grace trained for her first NPC-sanctioned Fitness show in 1995. Fast-forward fifteen years later to 2010, five years after being diagnosed with Stage 3(c) colon cancer. Grace decided to compete again--not to seek external validation from a panel of judges, but rather, to challenge herself with diet and exercise despite her seemingly invisible physical limitations caused by chemo's side effects.
On April 3, 2010 she competed in her first Figure show. Grace knew she could do much better with the help of a personal trainer/nutritionist. And so, with her trainer's guidance, she switched from the Figure Division to the newly formed NPC Bikini Division.
In Nov. of the same year, Grace attained her personal best at the All-South show in St. Augustine, FL. She was nominated and featured as BodyBuilding.com's Over-40 Amateur of the Week. And finally, Grace received 5th place in the Over-35 Bikini (Short Class Division) at the 2010 Ft. Lauderdale Cup where she befriended IFBB Figure Pro Tina White and met her figure idol, IFBB Figure Pro Ava Cowan. Grace no longer competes, though physical fitness will always be a part of her life.
Grace strives for joyful living and learning, and is open-minded enough to try most anything once. She enjoys snow skiing, scuba diving, skydiving, and traveling. While traveling abroad, Grace likes to soak in the culture's history, arts, architecture and daily lifestyle--eating and sleeping as the locals do. She recently visited Australia and Greece--Santorini completely captured her heart! Next on her overseas travel list: Italy.