2010
-----------------------------------
April 3, 2010:
My first Figure competition! Dieted & trained for three months. Lowest weight was 101 with a waist measurement of 24.5 inches. I definitely achieved my Personal Best and although I did not place in the Jax Physique competition, I am happy I reached all of my fitness goals during this time frame!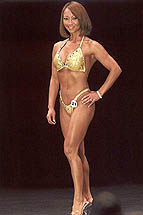 =========================
April 17, 2010:
I fell during my run this afternoon, almost doing a face plant! My left foot went numb on me, and I couldn't feel the ground upon my landing. There were cars behind me, and I know the drivers had to have seen me bite the dust, LOL. But I wasn't embarassed more than I was stunned and felt like an idiot! I bent over my left knee to analyze my bleeding boo-boo before getting back up to run the last quarter mile home.
=========================
May 12, 2010:
My left foot/leg is still bothering me, especially during my walks and runs. I feel like my left foot is dragging; that there is a delayed lifting reaction. Today, my left leg seems to be numb from the knee down. I tripped four times during a slow 2.5 mile walk. I have scheduled a doctor's appointment at Mayo Clinic with a neurologist for Monday, May 17th. Hopefully, the doctor will find the cause of my problem and have options for treatment as needed.
=========================
June 18, 2010:
The neurologist is on rotation up in Rochester's Mayo Clinic until August. My brain & cervical spine MRI appointment was scheduled for after his return. But I moved it up to this morning because my foot's getting worse and I want to find out what's going on, NOW. I contacted the neurologist's secretary so that she can alert the dr. to review my MRI results and contact me by phone.
=========================
June 24, 2010:
9:00 a.m. - Still haven't heard from the neurologist. I will call his secretary again this morning. My gait is horrible with my left foot turning inward whenever I lift my leg to take a step to walk. I have tried running short distances about 2x/week (1 mile ea.), but it takes a tremendous amount of concentration for me to lift my foot high enough and outward so I don't trip and fall. My entire back is hurting, especially the mid-to-lower area. My hips seem to hurt as well. I'm beginning to wonder if my foot/leg problem has anything to do with my spine...
1:40 p.m. - Finally heard from my neurologist after making my morning call to his secretary! The results of my brain/cervical spine MRI (neck up) came back negative. The only thing that was abnormal was a high glucose level from blood work which could be an onset for diabetes and possible cause for the numbness in my leg. Neurologist suggests getting a glucose tolerance analysis through my primary physician. The dr. will actually be back in town next week and wants to see me toward the latter half of that week before scheduling another MRI for the middle part of my back/spine.
=========================
June 25, 2010:
I have an appointment scheduled this Tues. @ 6:45 a.m. for a thoracic lumbar and spine MRI. Then, at 9:00am, I have a neuroextremeties test. Finally, I have an appointment to meet back with the neurologist on July 1st to go over the results to the MRI and neuro extremeties test.
=========================
July 1, 2010:
MRIs of my brain, neck and spine look good, but there was a discrepancy in the Somatosensory Evoked Potential (SEP) test. The SEP test showed a slow response from my neck to my spine. Neurologist wants me to re-do the SEP test to rule out possible testing/reading error. Next step is a spinal tap to see if I may or may not have a form of Multiple Sclerosis (MS). Reading of spinal tap can result in something that cannot be seen in the MRI.
=========================
Aug. 22, 2010:
SEP re-do was negative. Recently underwent a spinal tap to rule out Multiple Sclerosis. GOOD news: Negative for MS. BAD news: I'm back to Square 1 -- don't know what is causing my foot/leg problem. Neurology — It's the nature of the beast. But I'm glad to know I do not have to worry about MS.
Odd but good that my foot/leg is much better than it was in May. I still have to remind myself to lift up my foot and straighten it out before each step… "Lift, straighten"…it pisses me off when I'm on my runs!!
=========================
Sept. 15, 2010:
As if I hadn't spent enough time at Mayo Clinic the past few months, it's time for my semi-annual post-cancer workups tomorrow. I don't like that I have to fast for my blood work at 10:30am and be in a fasted state 4 hours prior to my 12:10pm CT scan. I won't be able to eat until after 1pm and before my 2:30pm X-rays and 4:30pm oncologist visit. I have 7-and-a-half weeks left of dieting and training for a November 6th figure competition, and fasting is NOT on my agenda. Neither is missing a cardio session. At this point in my training, I am doing 7 hours of cardio a week, lifting weights 4 hours a week, and eating every 2-3 hours. I know, I know...one day of missed cardio and a short detour of my dietary plan shouldn't hurt me. But I'm on a ROLL (smile)!
I always get a little anxious prior to my post-cancer workups. There's always that little pessimistic voice in the back of my mind that asks, "What if...?" But this evening, I feel the all-day medical procedures is more of an inconvenience in my diet and training routine. Maybe it's just my way of dealing with cancer-recurrence anxiety, but I doubt it. This is even after I found out yesterday that an old high school friend's mom passed away three weeks ago from gastrointestinal cancer (2001) which metastasized to her liver in 2004. My sincere condolence to my old bud, her children, and especially her dad.
=========================
Sept. 16, 2010:
I spent all day at Mayo Clinic today in a fasted state so I was crabby at the onset until after my CT scan when I got to eat my first meal of the day at 1:30 p.m. I underwent blood work, a CT scan and X-Rays followed by a visit with my oncologist to review the results of each procedure. First, my oncologist said that my general practitioner is giving me too much Liothyronine (Cytomel) to alleviate my hypothyroidism by 50%. Second, my blood sugar level is above the "normal" range. Finally, my CT scan revealed "something" in the liver. According to my oncologist, the lesion is about an inch in size. He doesn't think it's anything I should worry about because my blood work looked great (tumor markers, blood cells) with the exception of the two items noted earlier. I am to undergo an MRI next week to get a better look at the liver lesion.
I'm not going to lie to you. I am feeling nervous and sick to my stomach with the worst of thoughts. I just don't want to go through all of this again! Please, God...not again! And to top it off, my husband is leaving tomorrow for two months on an overseas business project. :-(
=========================
Sept. 23, 2010:
The liver "lesion" on last week's CT scan proved to be a fold and not a lesion at all! No Liver Cancer! I am beside myself!
=========================
Nov. 6, 2010:
Competed in the Bikini Division at the 2010 NPC All-South Bodybuilding/Fitness/Figure/Bikini Show in St. Augustine, FL. There were 25 beautifully fit Bikini competitors. I didn't place, but I am happy to attain my Personal Best! I am in the best shape of my life -- a very lean 101 pounds!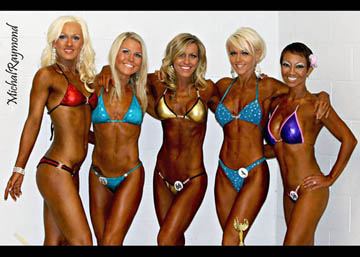 =========================
Nov. 20, 2010:
I placed 5th in the Masters (Over-35 Short) Bikini Division at the 2010 NPC Ft. Lauderdale Cup! I was dehydrated the day before competition and drank Pedialyte all night long. This caused me to come in a bit bloated, and I weighed in at 104 pounds at this competition. I think I still looked good, but definitely not any better than I did two weeks ago at the All-South show.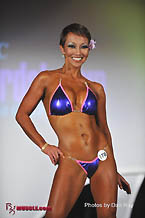 See more post-cancer pics.
=========================
Dec. 20, 2010:
My hips and lower back have been hurting for over two weeks, and my left shoulder, which has been "clicking" for many years, has been hurting since January. Shoulder's been clicking for many years, but these past two weeks, it's been hurting more, making me unable to lift heavier weights. I backed off my workout regimen by more than 50% since my last bikini competition. The pain in my hips and back have gotten to the point where it's very difficult for me to get out of bed, and it hurts for me to stand, walk or sit for an extended period of time.
Today, I had X-rays of my hips, back and shoulder at Mayo Clinic and met with a sports medicine orthopedist. I learned that I do not have osteoarthritis in my hips as I have thought since early 2006 when my oncologist in MD advised me while I was still undergoing chemotherapy. Rather, I have arthritis in my lower back along with bulging disks in the L3-L6 region, causing pain to radiate from just above my buttocks and around to the front of my hips. Shoulder looks good via X-rays, but I'm going back to Mayo to get some blood work and an MRI so the doctor can further evaluate the clicking and possible cause for pain.
The orthopedist prescribed 500 mg Naproxin 2x/day to replace my thrice-daily dose of 800mg Ibuprofen. Also, I will be meeting with a sports therapist to review my weight-training and modify the exercises to lessen the possibility of aggravating my pain.
I've been eating "real people food" to my heart's content for a month since the Ft. Lauderdale Cup competition. You would think that the last thing I want to eat is chicken after dieting for my competitions, but my favorite cheat food is spicy-hot breaded chicken wings dunked in blue cheese dressing. French fries. Pizza. Pasta. And I've gained about 10-12 pounds, depending on how much water my body retains. I'm still working out at the gym, trying to overcome the pain. Once the holidays are behind me, I will get back to eating cleaner. I have no plans to compete in early 2011.