2008
-----------------------------------
Wed., Feb. 27
I have been too busy catching up with life...without cancer! So please excuse me for having not written in my journal as of lately.
It's 8:40 a.m. and I am heading out the door to meet up with my best friend, Kelly, for a four-and-a-half-mile run. I've already worked out my abs: lying leg lifts with hip thrusts, butterfly crunches, and side bends with light weights. And I always complete my ab workout with back extensions followed by full body stretches.
In the past three to four months, I have had multiple follow-up exams at Mayo Clinic to check for colon cancer. I've had a colonoscopy, MRI and CT scans, and countless bloodwork. All came back negative, which means I am cancer-free two years in a row now!
=========================
Sat., May 24
Hi! I turned 41 this past Mother's Day (May 11th). I am so happy to be here and share with you my love of life! All is well with me. Still staying active by running and lifting weights, hitting the beach with family and friends, and going crazy with gardening and trying my hand at propogating with stem cuttings and seedlings! Nerdy, I know, but it's a great outlet for me to unwind after a busy day!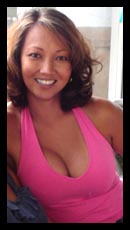 More pics here.
Happy Birthday to me!
Happy Mother's Day to me and to all of you beautiful moms out there!
=========================
Mon., June 23
Happy beginning of summer to all of us! I have a feeling it's gonna be a HOT one for us Floridians this year!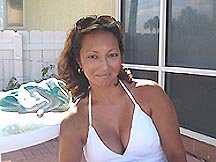 Time to change up my running and weights routine! I am nearing the end of my six-week training cycle and will take a break from lifting weights next week -- but not from cardio! --before starting up a new six-week cycle. Must make changes to workout routines at least every six weeks to see continued improvements and jump over those plateaus!
=========================
Sun., Aug. 17
I had my semi-annual hematology and oncology appointments on July 9th and July 24th, respectively. My blood work looks normal, though there is a slight trend increase in my CEA levels from the past three quarters. The CEA levels are cancer tumor markers. The lower the number, the better (0.0 - 3.0 is on the low end of the spectrum). My current CEA level is at 2.6; last quarter, it was 1.6; and the quarter prior was at 1.2. Two weeks later, I had a CT scan with iodine contrast (received intravenously) of my abdomin amd pelvic regions which showed no abnormalities. Though my CEA levels are on the rise, my oncologist assured me of no worries.
My oncologist reminded me to schedule my annual well-woman exams (pelvic exam and mammogram), as colon cancer patients are more susceptible to cancerous growth in the breasts, ovaries, and uterus than those who have not had colon cancer. I had my first mammogram around this same time last year, and it wasn't as bad as I thought. All of these medical procedures can seem to become a hassle. But better safe than sorry!
On another note, tomorrow is my children's first day back to school from summer vacation! Armani is now in her senior year of high school and Andrew's in 1st grade.
My workouts are coming along. Started running outdoors again -- 3 times a week @ 3+ miles each session. Lifting heavier weights for my upper body, and light weights for legs. Diet is better than usual. I have increased my daily raw veggies and water intake. My most favorite raw veggies to snack on are sugar peas, broccoli, asparagus, zucchini, squash and cucumbers. My most favorite meal of the day is breakfast -- 2-egg whites/1 yolk omelette filled with 1 c sauteed spinach, sprinkle of shredded part-skim mozzarella, garlic, basil, salt, pepper and dash of cayenne pepper, 1-2 slices turkey bacon and 2 cups of coffee plus 2 cups water. What are your favorites?
=========================
Mon., Sept. 1 - Labor Day
No school for the kids. It's dreary and extremely humid outside as Hurricane Gustav makes its way to New Orleans.
My hips have been hurting since last week. I'm afraid the pain is related to my arthritic condition during my chemotherapy days. Today is a running day for me, but because of the pain, I'll have to make do with a 4-mile walk instead.
Overall, I'm doing well and really can't complain about anything these days. Thanks to all of you who continue to keep in touch with me and send well-wishes my way!