July 2019
Since my last entry five years ago(!), I've had three major surgeries and a complete turnaround on my overall health. I'm forever grateful to all of the doctors, nurses and medical staff who have taken such good care of me over the years. Finally, a big thank you to my friends and acquaintances, whether IRL (in real life) or in virtual reality via social media for your support!
My children, daughter Armani and son Andrew, are now grown up and paving their own path on Happiness Street while I am thoroughly enjoying and embracing the independent lifestyle I've always desired. I've transitioned from the traditional roles of mother and wife to friend and single woman, respectively. Life is truly a gift of fascination and delight! May we all strive to live life with sheer gratitude and astonishment, through our senses, heart and soul of one who knows and does nothing but love.
~Grace
---
Nov. 20 - Nov. 21, 2014
Attending the National Colorectal Cancer Round Table (NCCRT) annual meeting in MD. Thanks to EnFocus Media for designing Be a Blue Buddy's logo! Together, we were awarded first runner-up in the 2014 NCCRT Blue Star Challenge. Charitable proceeds will go to Colon Cancer Alliance's (CCA) Blue Hope Prevention Award, funding for individuals and family members for colorectal cancer screening-related issues.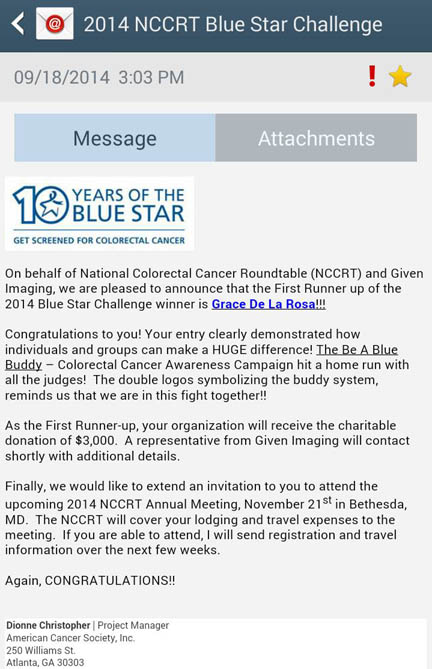 ---
Aug 4., 2014
---