Jan. 2006
-----------------------------------

Jan. 1:
Slept through most of the day. Had enough energy this evening to eat dinner with the rest of the family!
-----------------------------------
Jan. 2:
Still so fatigued today, but had to go to OPIS to return the chemo pump and get my Neulasta shot to increase my white blood cell count. I'm not a baby when it comes to shots, but this one is very painful to receive, even more so than the Procrit shot, I think. I have to get it every other week too. It f-ing hurts! And man-oh-man, the tips of my fingers and toes hurt so badly when I go out into the cold outdoors. My lips start contorting, cramping from the cold too. It seems that the slow-drip infusion of calcium and magnesium aren't doing the trick to help with the cold sensitivity and neuropathy; unfortunately, neither does the Vitamin C which the nurse practitioner wanted me to try this time around.
-----------------------------------
Jan. 3:
STILL fatigued today -- and today makes it five days out from my last chemo treatment. I'm noticing the cumulative effects now. It's taking me longer to recuperate from fatigue, cold sensitivity and neuropathy. Had to make that 2-hour drive today to Bethesda's NNMC again for the internal stitch absess to my surgery site which happened over the Christmas holiday. Doc says if it continues to heal and absess again, will have to perform minor surgery to remove the rest of the internal stitches from the site. Wish he could have just gone ahead and do the damn "minor" surgery today so I don't have to go back to NNMC next week just for a "follow up". No such luck. Have to go back next week for a follow-up.
Today, I noticed not only my lips cramping up from the cold -- now, my nose crinkles up so it looks like I've smelled something disagreeable. This cramping is not only funny-looking, it is uncomfortable and embarassing. If I'm out and about, I have to blast the car heater onto my face (and also my hands) to relieve the crampings/contortions before I get out of the car to head to my destination.
-----------------------------------
Jan. 4:
My energy level is up today! Yippee! I enjoyed helping my little boy Andrew construct bridges and "train sheds" with his new set of Legos. He is so much fun to be around, very inquisitive, a fast learner and extremely loving! I only hope these traits stay with him as he grows older. Most of the time, I just can't keep my hands and lips off of him! I have to hug him and kiss him constantly -- close to just eating him up alive! :-) Just the sight of him makes me want to have another bundle of joy. Of course, the timing isn't good right now. Perhaps after chemo, if I don't experience early menopause as yet another side effect of my treatments.
Oh, I was feeling good enough this evening to kill off the rest of the White Star champagne from New Year's. Yeah, that's what I'm talkin' about.
;-) Ok, hubby helped me drink the champagne. Hehehe.
One more thing -- as promised above, here are before and after photos of my new 'do! Obviously, the "Before" photo is of me with my little Andrew, and the "After" pic is of hubby David and me in Hawaii. P.S. Told ya I've been gaining weight since this cancer thing! No energy to work off the foods I manage to eat! Yeah, yeah -- calories in, calories out. In my case, calories in, calories (stay) in. Hahaha! I'll get back into the groove of things once I finish chemo and get back into shape! For now, I have this big battle to deal with! (Yikes! a pet peave of mine -- ending a sentence with a preposition!)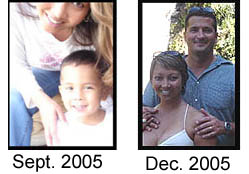 -----------------------------------
Jan. 6:
Woah! Much energy here! First time I've felt this way since my cancer diagnosis! Wish I could feel this way every day. Tired of getting chemo, even though I NEED to get it. I went crazy in the kitchen today cooking homemade chicken and dumplings (YUM!), making spinach and artichoke dip, rice krispy treats with strawberry fluff, and baking keylime bars! Oh, and I worked out here at home for the first time since I started chemo! I did 30 minutes of cardio (step aerobics) and 30 minutes of free weights for my entire body. I know I'll feel it big-time tomorrow since I'm already feeling some (good) pain. :-) It feels good to feel this way again!!!
-----------------------------------
Jan. 7:
Still feeling very energetic! I worked out again and did an hour of cardio plus abs and lower back. Amazing! And I did some shopping at a local fabric store. Took two hous, but I finally found some fabric to make pillow shams for two king-size pillows in our bedroom. It's almost like ticker fabric, white and kelly-green stripes. Very soft. Luxurious feeling, really. I want to slowly change the look in our master bedroom. Right now, the colors are beige (dominant), green and white. I want to make the dominant color white with green accents.
-----------------------------------
Jan 10:
Worked out again! Yea! I did 3 min. freeweights (upper and lower body) along with 45 min. cardio and 8 min. abs. Started to cut down my caloric intake. Can't wait to get back to my normal 100-105 pounds (I'm 5'1"). I just try to picture myself at that weight while I work out. It keeps me going.
I have to drive the 2.5 hours to NNMC up in Bethesda, MD tomorrow morning for a 10:30 a.m. appointment. The surgeon needs to take a look at my abdominal incision site to determine whether or not he has to do minor surgery to remove internal stitches as the lower part of my incision site keeps absessing. And the site is right where I button my pants. Ouchie. Will update you on the outcome of my appointment.
-----------------------------------
Jan. 12:
It's chemo time again (sigh). They infused me with my usual pre-meds (steroids for nausea, Pepcid, Benadryl, Calcium and Magnesium) as well as my FOLFOX regiment (Oxaliplatin and Leucovorin). I have the portable pump on me for a 48-hour continuous IV flow of 5-FU (Fluorouracil). I just got home from my in-house (OPIS) infusion which again lasted 6 hours total. It's 5pm on the nose and I'm tired. My hubby surprised me this afternoon by visiting me at OPIS during the last 20 minutes of my infusion at OPIS. I thought it was a sweet gesture on his part, especially because I slept right through his visit.
It's now 5:00 p.m. I just had a couple of eggs for a "snack.," so I think I"ll hop in bed now.
P.S. Thank you all so much for your very kind emails. The emails are all very thoughtful and sweet. It makes my day to read such uplifting emails. Again, thanks for your support.
One more thing: I would like to be able to count on you to donate to the upcoming local Relay for Life, an American Cancer Society fund-raising event in support of further research to find cures for all types of cancer. It consists of teams to complete a 12-to-24-hour walk, run, or roll around a track. Relay for Life honors surviving cancer patients, those who have died, and the efforts of all who fight this disease. It will take place in Leonardtown, St. Mary's County, MD on Fri., June 10-11, 2006 from 5:00 p.m. to 6:00 a.m. at Leonardtown High School.

Please help support the American Cancer Society by making a contribution through the upcoming Relay for Life event in St. Mary's County, MD or in your local area. I'd love to hear your stories! Let me know how it goes!
-----------------------------------
Jan. 16:
I slept through the entire weekend and felt better this morning after my lovely daughter served breakfast in bed for me! I am ever so grateful to my in-laws who took Andrew with them for the weekend so I could recover in peace and quiet. Grandma and Andrew are on their way here at home as I type this entry. I went to OPIS earlier this afternoon to drop off the chemo pump and receive a shot of Neulasta once again. But hey! I'm halfway through with all this chemo and Neulasta business! Woo-Hoo!
I've been a little off-balance lately and I've fallen down the stairways several times. I've also been forgetfultoo -- I can be right in the middle of a sentence and completely forget what I was saying! Doc says the forgetfulness or "chemo brain" is normal with any type of chemo. The former -- being off balance -- is yet another side effect of Oxaliplatin (Erbitux). I guess I'd better hold onto the hand rail whenever I go down the steps!
My sensitivity to cold and neuropathy no longer "go away" between treatments. It is with me 24/7. And it hurts just to type on the keyboard. The top knuckes on both of my hands are very dark in color, and my palms and fingers are cracked from dry skin. My cuticles are shot. No matter how much I moisturize them with my all-time favorite lotion which contains paraffin, my hands remain dry as can be. Not very attractive, that's for sure. Again, side effects of chemo that I've just recently noticed. These "problems" are supposed to vanish once I stop chemo treatments. I can only hope that's the case.
-----------------------------------
Jan. 25:
I went to OPIS and received my pre-meds and chemo for six hours via IV through my port. Went home with the portable chemo pump. Felt like crap immediately, and hopped in bed for the rest of the day and night.
-----------------------------------
Jan. 26:
Got up to try to eat some breakfast at the breakfast table. My left leg cramped up, like a charlie horse, and it really hurt to walk around. So -- back up the stairs I went to get a dose of Quinine. It alleviated my cramps within 30 min., and I didn't get cramps after that episode. I was able to go back down to the breakfast table to eat breakfast, but had to go back upstairs soon thereafter. I was just way too fatigued to even keep my head off the table. LOL. Slept the rest of the day and night, with the exception of hubby waking me up for lunch and dinner, and the occasional visits from my son who gave me tons of kisses during my sleep.
-----------------------------------
Jan. 27:
(Happy Birthday, Mom P.!)

Time to go to OPIS to drop off the chemo pump and get my shot of Neulasta to boost my white blood cell count. Well, I was too fatigued -- too weak -- to even think of driving myself to OPIS. I called hubby at work to see if he could take me to OPIS. He did. But I didn't get my Neulasta shot, damn it. For some reason, the nurse wanted to wait a full 24 hours before giving me Neulasta. So, I scheduled to get the shot on Monday.
Yet a new side effect has taken place with me -- the bottom of my feet feel like they're on fire, raw almost, or even blistery feeling. Well, I don't see blisters, but I see darkened patches of skin. I also see darkened knuckles on my fingers. My hands look very "old." They're wrinkly looking, the skin on my fingers and palms are peeling, and forget about my cuticles! If I were to guess how old I was just by the sight of my hands, I'd say I was about 60, and a hard-working 60-year-old at that!
-----------------------------------
Jan. 28:
Slept the entire day and night. So, so fatigued! I am so tired of being tired! I hate chemo! I hate having cancer! I just HATE how I'm feeling! I feel like "quitting," but I love life too much to do such a thing. I just hope I don't ever have a recurrence of cancer. I don't know if I could deal with it a second time around.
-----------------------------------
Jan. 29:
I'm more alert today. In fact, I was awake -- but still in bed -- all day reading the Sunday paper. I even got on hubby's laptop to check emails and messages at MySpace.com. I must have dozed off several times throughout the day, but that's OK. I don't think I have the energy to care for Andrew tomorrow, so I've asked my hubby to call Luz, Andrew's daycare provider (just a few doors down from our house) to see if she can care for Andrew while I continue to recover from chemo. Hubby says Luz says "no problem!" thank goodness.
-----------------------------------
Jan. 30:
Got up around 10:00 a.m. Made myself breakfast. Then noticed a whole bunch of over-ripe bananas sitting on the countertop. Decided to get rid of them by making banana nut bread. Yum. Also decided to finish canning homemade pepper jelly. Oh-so-delicious when poured over a block of cream cheese and spread on crackers. So, now that I've finished baking the banana nut bread and canning the pepper jelly, it's shower time and a short drive to OPIS to get my Neulasta shot. I'm actually feeling OK today, but still a bit tired.
After my visit to OPIS on this beautiful, warm (67 degrees farenheit!) and sunny day, I headed to the grocery store to get a few items. Back home, I unloaded the groceries and started dinner -- Chicken Adobo, Filipino Style (!) with steamed Jasmin rice and green beans.
Hubby and Andrew got home around 5:30pm. Time to eat dinner! Daughter Armani is cheering at a game tonight. Won't see her until around 8:30pm or so. Gave Andrew his evening bath. It's so good to be able to spend some time with my cutie-pie little boy! Well, I'm going to join hubby and little Andrew downstairs for a bit before calling it an early evening. Until next chemo treatment -- Adios, Amigos!
-----------------------------------
Jan. 31:
Ohhhh, my aching bones and joints! The Neulasta shot did it. Does it all the time. Makes me feel soooo old in this body of mine. I've got things to do today, like chase my son around the house and clean (LOL). You know, domestic duties call EVERY DAY whether or not Mom feels well. There's no such thing as sick-leave. It's OK. I LOVE being a stay-at-home mom!